October 2015: SFB set up its base in the Innovation Incubation Center of STUST.
September 2015: SFB was established in Tainan City.
ABOUT US
About SFB
Founded in 2015, Sun Fermentation Biotechnology Co., Ltd. (SFB) boasts a research team which has remained devoted to microorganisms and health food development for years, and continues to work on the research and applications regarding the metabolites of dominant probiotics and microorganisms.
Core Values
With the spirit of "Be Truthful and Earnest," the Company manages to increase value for the industry, and maintain a daily healthful environment for the public.
Operation Purpose
Based on the R&D and marketing of "intellectually value-added microorganism" in the domestic biotech industry, the Company strives to expand the scope of the domestic applications for microorganisms, and to stabilize the production process and quality of relevant products.
R&D Objective
The Company provides industries not only with products and micro-organic materials of the finest quality, but also analyses and application research regarding metabolites of probiotics and microorganisms.
R&D Strategies
Analyze microorganisms in response to industrial demands, establish manufacturing methods, provide microorganism products for single-process production, and conduct analysis and application research on metabolites
Goals and Vision
With professional and well-established R&D techniques, as well as a precise grasp of market trends, the Company combines not only professional techniques with R&D procedures to develop products that satisfy the demands of industries and markets, but also the R&D procedures with marketing concepts to provide the value-added microorganisms with both originality and marketability, to create advantages for the Company and our customers, and increase the profits for enterprises.
In the field of microorganisms, the Company cooperates with major industries, including health, agriculture, livestock farming, fishery and environmental protection. It identifies the industry trends and marketing strategies, applies its professional knowledge on microorganisms in the provision of safe and value-added microorganism strains, and actively develops new products to improve human health and life quality.
Company History
September 2015: SFB was established in Tainan City.
October 2015: SFB set up its base in the Innovation Incubation Center of Southern Taiwan University of Science and Technology.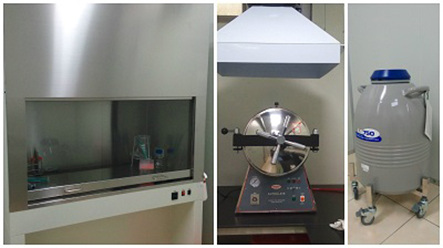 Facilities of R&D Center
Laminar Flow
Autoclave
Liquid nitrogen means
Oven
Low temperature incubator
Stereomicroscope